Friendly. Reliable. Independent. Certified and verified.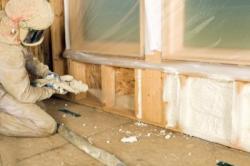 Dixfield Foam Insulation, Inc., owned and operated by Grady and Melissa Littlehale, offers spray foam insulation installations throughout the state of Maine. Formed in 2007, Dixfield Foam aims to increase the energy efficiency, comfort, and operating costs of new and existing buildings by applying the most advanced insulation technology on the market. Melissa and Grady Littlehale formed the company after researching the most efficient way to keep their 1800's farmhouse comfortable during Maine's long, cold winters -- a testament to the performance and value of spray foam insulation.
Dixfield Foam Insulation meets with individual homeowners and businesses to provide optimal solutions for cutting heat loss while fitting into the customer's budget. We use both open and closed cell spray foam insulation, as well as International Fireproof Technologies' Thermal and Ignition Barrier Paints. We work closely with State and local energy auditors to monitor thermal effiency in the entire structure. Dixfield Foam Insulation also works with other insulating contractors to provide additional insulating options.
Contact us today to schedule an appointment, or to discuss whether spray foam insulation could be a good option for your home or business.