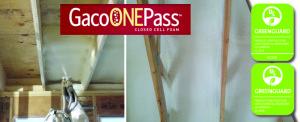 Gaco One Pass Closed Cell

Closed cell foam has the highest aged R value (7.0 per inch) of any polyurethane foam on the market today.

A great choice of insulation for todas rising energy prices.

Gaco Open Cell

Open cell foam is also a great choice for meeting todays energy needs, with its aged R value of 4.0 per inch, it could fit easily into your budget. Open cell foam will require a vapor barrier after installation.